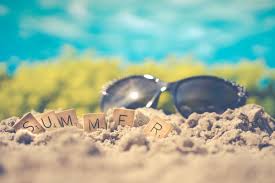 With the school holiday's coming up after this weekend we have a look at what's on at the Buffalo Community Centre this summer and events in the local area which may interest you.
Let's pray for plenty of sun and enjoy your holidays whatever you end up doing.
What's On At The Buffalo
We have all our usual groups, classes and meetings on over the summer. The only changes are for the Buffalo Youth Group sessions and the ESOL meetings on Wednesday. The only changes for these groups are:
Buffalo Youth Group
The fun packed sessions will run as usual except for the weeks starting the 19th and 26th August. The sessions will start up again from the 2nd September
ESOL Group
This group is term time only and therefore will not be running over the course of the summer holidays. It will return in September 2019.
What's On in Blyth
It's sometimes hard to find things to do over the summer, so why not have a look at our handy guide on free and paid events in and around Blyth over the summer holidays.
Sunderland Airshow Day Trip: Sun 28th July
Phoenix Coaches are offering day trips to the International Air Show at Sunderland on the 28th July 7:30am – 5pm. Tickets £6 each. For more info visit the Facebook page. https://secure.latest.facebook.com/events/439319783272474/
Books and Art In Space (Cramlington/Blyth Library): Tues 30th/ Wed 31st July
Celebrating 50 years of the moon landing Cramlington and Blyth library will be hosting this event for space fun! Time: 2.30pm – 4pm. Tickets £1 each. To find out more information and book ticket click the link below.
https://www.eventbrite.co.uk/e/were-going-on-a-space-hunt-at-cramlington-library-tickets-63567209234
https://www.eventbrite.co.uk/e/books-art-in-space-at-blyth-library-tickets-63564774953
Into the Fields Festival Blyth 2019: Fri 2nd Aug – Sun 4th Aug
If you love music festivals and cover bands this event is for you! From the Killers (Killaz UK) to Oasis (Howaysis) you'll enjoy a music packed weekend. For more information and tickets visit
We're Going on a Space Hunt (various libraries in Northumberland): various dates throughout August
Blast off to space with the experts from Battlesteads Observatory – Astro Ventures. A fantastic, fun and hands on session with the chance to handle meteorites and Earth Rocks and make your own spectroscopes. Suitable for children aged 4-12 years. Tickets cost £2 and can be booked online.
Click on the link to see what's on in Northumberland libraries and book tickets.
https://www.eventbrite.co.uk/o/northumberland-libraries-12676562101